How Drag Race Changed The Narrative
Whilst talking about Drag Race in the lead up to Brighton Pride this weekend, Fleurie and I happened upon some powerful story insights. So please, strap in as we decode this incredible case story before your very eyes…
Fleurie: I've been a huge fan for the past 6 years and I've recently gone back to watch the earlier seasons I missed so I think I've watched every US episode at least 4 times.
It's one of the world's most popular reality TV shows, inviting viewers to indulge in a magical world of transformation – both inner and outer – filthy comedy and fiery competition between drag queens vying for the coveted title of 'America's Next Drag Superstar'.
Watching this glamorous world has provided me with a comforting and joyous escape. And along the way I've also learned an enormous (although narrow) amount about the LGBTQIA+ community, particularly the challenges queer people face everyday in the outside world. So it has been an enjoyable source of both entertainment and education for me as a cis, heterosexual woman.
It's only when I took a step back to analyse the show with a professional lens that I clocked how it successfully shifted the narrative about queer culture…
In the Stronger Story School we unpack how the narratives dominating any particular area are supported and maintained by the many stories being told in and around them.
Every single story is part of an ever-changing ecosystem of other stories and emerging and declining narratives. To survive, the living and messy thing that is the story, needs to be continually updated so that it remains fresh, relevant and interesting to growing audiences. By aligning the story so that it slipstreams strong narratives, you can engage more and more people in the good idea.
So here's what I've unravelled…
RuPaul, an infamous drag star, achieved incredible success in her career, but the majority of the world remained ignorant to drag's beauty and power, despite her individual wisdom and impact. Attached to this, intolerance for the queer community remained unchanged or grew worse due to ignorance and the fear people carry for what they do not understand.
So Ru hustled to secure a bigger platform, bringing the art of drag into people's homes. But crucially, in making the show a competition, Drag Race didn't just champion drag and queer culture through RuPaul's story but through thousands of others. Alongside Ru's wisdom and framing challenges in drag history, we learn about drag through the diverse stories of hundreds of contestants, each of whom bring unique lived experiences, origin stories, challenges and points of view.
Over the course of fouteen years, the stories of not 1 drag queen but 184 have provided colour and range to mainstream society's understanding of drag culture and wider queer culture too. It has gone a HUGE way to changing the dominant narrative from 'drag is a joke' to 'drag is an exceptional, multi-dimensional art form to be celebrated and respected'. And viewership has expanded, with 2021 records showing some episodes have secured over 1 million views in the US alone.
Aphie: Individual queens' stories have struck a chord with fans all over the world, bringing attention and raising awareness to an array of issues. Throughout her time on the show, season 11 winner Yvie Oddly openly voiced her struggles with Ehlers Danlos Syndrome (EDS), a connective tissue disorder which can cause a range of issues – including problems with mobility and chronic pain. Sharing her story has opened up a dialogue around disability and increased awareness of EDS, a condition which is rarely discussed in popular media. Her words have resonated with many affected fans, contributing to the evolving narrative currently surrounding EDS.
Similarly, stars Dusty Ray Bottoms and Scarlet Envy used their platform to spread awareness of the realities of conversion therapy. The pair were interviewed on the topic by The Trevor Project, with Dusty stating that "you can't fix something that's not broken". The frank conversations that took place on the show even inspired a fan, themselves a victim of conversion therapy, to produce a documentary on the topic, further elevating the stories of LGBTQ+ youth.
Many Drag Race stars have shed light on trans issues, both within the drag community and everyday life. Peppermint challenged expectations of who can do drag as the first openly trans woman to compete on the show in season 9, having previously felt that she "had to choose between living my dream as a performer or living my truth as a trans woman". Her story was echoed in that of Gottmik's in season 13, as the first ever trans man to take part in RPDR. Though RuPaul herself has been the subject of numerous controversies regarding her statements on trans people, her show has taken on a life of its own which embodies a more accepting stance. Drag Race is much more than RuPaul, it's a phenomenon – an entire ecosystem of stories.
This speaks to the power in a multitude of stories, reverberating off of each other and informing one another. One voice can inspire but hundreds of voices can start a revolution. RPDR is more than just pop culture, it impacts real lives and has empowered a generation of young LGBTQ+ people.
Drag Race has dominated the airwaves, poured into every facet of popular culture, become a staple in everyday conversation and changed the narrative forever by bringing hundreds of stories together under one banner – that drag is the embodiment of self love and expression and is (and always has been) at the front line of championing change through entertainment.
View the full Drag Race story below in our Lean Story Canvas:
Grow Your Good Idea
Faster
New ideas are precious. Win support by learning how to create and tell a stronger story – sign up to join for free.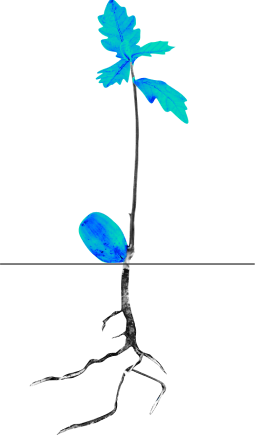 Learn from the strongest stories about change​
Sign up here to receive our monthly newsletter that explores great storytelling about brilliant ideas. Don't worry you can unsubscribe at any time.
We're working hard to walk the talk.
We're proud to be have been awarded The Blueprint and B Corp status in recognition of our work towards creating a better world.