Wangari Maathai: Creating Change in Her Community and Across continents
Africa Environment Day is celebrated annually on March 3rd as a way of raising awareness of the pressing environmental challenges facing the continent. Since 2012, the Africa Environment Day has been celebrated in conjunction with Wangari Maathai Day, to pay tribute to the late Nobel Laureate's green legacy. 
Maathai was the first woman to obtain a PhD in East and Central Africa, she was a scholar and an environmental and human rights activist. In 1977, she founded the Green Belt Movement, to encourage local women to plant trees combating deforestation and environmental degradation. To date, the Green Belt Movement has planted over 50 million trees!
We have mapped out Wangari Maathai's story using our Lean Story Canvas framework to reveal the power that lies behind her ability to scale change from villages to across continents.
Viewing Maathai's journey of change in this format reveals the mastery of her storytelling legacy. We have identified three ways in which she keeps her story moving and paves the way for others to join her environmental mission.
1. She helped redefine the story for women's empowerment in Kenya.
Women are integral green agents of change in the environmental movement and play an important role in environmental stewardship.
Through the years, Maathai told stories about the underlying linkage between environmental problems and sexism. She highlighted the importance of women being involved as equal participants and developers in the Green Belt program to create a model of female achievement.
These stories primarily cascaded through word-of mouth, when other women heard and saw the proof of what their peers could achieve, they were motivated and were empowered to make a difference themselves. Maathai also ensured there were physical incentives to accompany these positive stories, providing an obtainable income from planting trees that removed external barriers to engage in conservation efforts.
Maathai believed that diplomas in forestry were not needed for planting trees; she encouraged women to use common sense, traditional skills and wisdom to manage the nurseries. They were labelled, "Foresters Without Diplomas" – further breaking down engagement barriers.
2. She understood the way stories travel.
Maathai understood the power of Personal, Tribal and World storytelling; the stories individuals, communities and societies tell themselves respectively, because of cognitive bias and the evolution of storytelling.
By first focusing her attention on women as agents of change, she knew that men within those communities could join in the action as allies inspired by the successes of the women around them. This helped to remove patriarchal barriers and promoted empowerment in homes and the public sphere.
Maaithai's understanding of the importance of allies in change went beyond gender. Her story was able to leverage support from rural women to heads of state because of their aligned compelling villain – environmental degradation permitted by those in power. It worked for those who took action against the system and for those within systems of power who wanted to see change.
3. Within the Greenbelt movement, she didn't position herself as the hero, but rather the Mentor in that movement making space for others to lead.
After being the hero of her personal story, Wangari transitioned into the mentor role for The Greenbelt Movement, a crucial component of keeping a cause' momentum going. Her choice to do so allowed space for new heroes to emerge, and by sharing her decades of life experience and influence she ensured that the movement would exist well beyond her generation.
The Greenbelt Movement puts young Kenyans at the heart of their environment story, dethroning the White Saviour narrative, and the tropes of "poverty porn." It firmly places the future of Kenyans in their own hands. Additionally, the movement was another step towards redefining the place of women in scaling change, and demonstrating their ability to shape the world.
Our lives are living stories, and Wangari's was one of perseverance, optimism and empowerment. Her commitment to the environmental restoration of the earth led to her receiving many accolades and leaving an indelible mark on the earth.
Yet, perhaps her most important accomplishment is the story she left behind.
It's a story that other young women can see themselves in, draw power from and align their beliefs with. It makes it clear that whilst they navigate a burning, patriarchal world, their voice can be heard and their actions felt –  that they are integral in creating the world we want to see. Wangari, hero turned mentor, used storytelling to scale change, whilst embodying that change with who she was.
Grow Your Good Idea
Faster
New ideas are precious. Win support by learning how to create and tell a stronger story – sign up to join for free.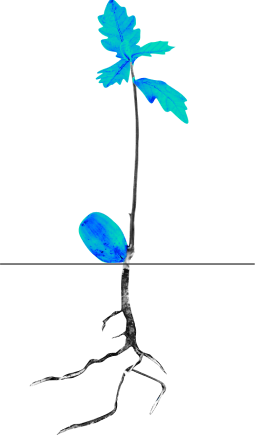 Learn from the strongest stories about change​
Sign up here to receive our monthly newsletter that explores great storytelling about brilliant ideas. Don't worry you can unsubscribe at any time.
We're working hard to walk the talk.
We're proud to be have been awarded The Blueprint and B Corp status in recognition of our work towards creating a better world.