The changing tactics of activism
We all recognise the vital role activism plays in keeping climate change in the headlines.
Since the dawn of time, activism has been one of the most important change-making tactics available to those despaired with the status quo.
Naturally, as a largely instinct-driven force, activism has evolved with the times to ensure its manifestation remains relevant and effective – both reflecting and influencing the culture that surrounds it.
So we put a few modern activism campaigns under the microscope to reveal what's helping them achieve cut through.
We've all seen the increasing focus on climate change themes either revealed or parodied in film and TV, with docuseries becoming one of the most popular forms of content streamed around the world.
With these old stories being given new life and Hollywood glamour, it was only a matter of time before their iconic scenes began to influence activism out on the streets, continuing the cycle of life imitating art, and art capturing life.
Sharing a comparatively snappy title, protestors trying to stop new oil and gas projects have recently been compared with the Netflix original 'Don't Look Up'. This was following a TV interview on Good Morning Britain.
JSO protestors have appeared on Premier League football pitches, petrol forecourts and the BAFTAs, interrupting 'business as usual' to ensure their message is heard. But social media chatter escalated sharply after viewers spotted parallels between campaigner Miranda Whelehan's interview on ITV and the daytime talk show scene from the Oscar-nominated film.
Whelehan went on to write an article about the stark comparison for The Guardian, generating further coverage for their cause:
The landmark 'Seaspiracy' documentary launched on Netflix one year ago, and charted as a top 10 pick a week later. It sparked a global debate around the damage that fishing and eating fish is doing to the natural world, contributing to climate change.
To 'celebrate' its anniversary, protestors from Animal Rebellion (a faction of XR) drenched the London headquarters of the Marine Stewardship Council (MSC) blood red, in protest of misleading 'sustainable' fishing labels.
In a bid to stop fishing and Oceania destruction, the protest caught the attention of major UK news outlets, ensuring the feelings stirred within viewers of Seaspiracy were brought back to the fore.
Street protests have long been the backbone of activism, but the lack of meaningful action taken by governments and big business clearly required a more creative approach.
These examples prove that targeted, strategic and rapid tactics, adopting a modern mindset to our problems, can shift mindsets and ensure that everyone – from local car owners to international board directors – are getting the very specific message.
Canadian non-profit 'Adbusters' recently promoted a challenge to their activist community to take to the streets and deflate SUV tyres in a bid to tackle climate change.
The 'SUV Flat Tire Challenge' was shared publicly on the non-profit's Twitter account with an instructional infographic to explain how to take part: "It is time for us to carefully escalate our methods in a non-violent manner and convey the seriousness of this crisis in tangible ways."
The challenge takes this form of activism global for the first time, following in the footsteps of Swedish and UK groups (Tyre Extinguishers) to warn off SUV purchases through wide-spread media coverage of the potential disruption facing SUV owners.
But what about professional forms of activism?
The Times recently reported that just 100 businesses account for over 70% of the world's CO2 emissions, so bringing activism into the corporate world is more important than ever.
In a landmark defeat within the oil giant, ExxonMobil, shareholders voted two directors (Gregory Goff – former chief executive of US refiner Andeavor and Kaisa Hietala – a past head of renewable products at European refiner Neste) to the board, put forward by activist investor, Engine No 1.
The vote for change from within highlighted shareholders' frustration that the oil and gas brand has not prepared well enough for a low-carbon future and that they're willing to use their voice.
JOE Media recently featured an influencer going 'behind the scenes' at one of KFC's poultry farms in a bid to demonstrate how the fast-food chain takes good care of its animals.
But moving rapidly to retaliate as the video was wracking up thousands of views, the Founder of a vegan fried chicken alternative, VFC, returned to the same farm undercover to film the stark reality.
Capturing footage of the reality of those same chickens and the poor conditions they were living in, the video was featured by mainstream media titles and has now amassed more views on social media than the original JOE footage.
By bringing the truth to light through exactly the same communication channels at pace, the original CSR story has been replaced with a far stronger one, repositioning KFCs effort as scandalous and misleading at best.
Activism through Creation
Lastly, we wanted to acknowledge a new wave of activism which, although somewhat quieter, absolutely has its role to play in today's world.
One organisation is sending a positive message of change, operating in a way that is in-sync with today's challenges and the required solutions, walking the walk and inspiring others to follow suit, lest they be left behind.
Indeed, not all forms of activism are about fighting against a villain.
Sometimes the strongest message (and medium) can be through the creation of a new hero. And that's exactly what's happened in Vermont, through the launch of a football club on an ambitious mission to embed environmental justice into its competitive strategy and culture.
The hope is that the team will attract a new audience to the sport, one primarily engaged with its vision, and in-turn demonstrate that the enormous platform given to sport has an important part to play in the climate conversation.
Artists within the music industry have strived to leverage fame and storytelling to make a meaningful impact on climate change, with mixed results. But the newest generation of pop stars are embedding true action into their very brand, the most notable of which is Billie Eilish.
A regular climate protester and proudly vegan since she was 11 years old, Billie has teamed up with REVERB to contribute to the Music Climate Revolution campaign during her 2022 tour.
The partnership ensures that the tour itself will eliminate more carbon pollution than it creates and fans will be able to access an eco-village offering ways to donate to climate change charities, test their knowledge through games and fill up reusable water bottles for free.
As understood by the animal-activist-turned-CEO, Bruce Fredrich, changing a deeply entrenched narrative or behaviour requires a more sophisticated strategy at times.
Building a transformative business as an alternative to the status quo can be the most powerful form of activism.
Having tried to protest his way to change and failed, Fredrich took a new direction, founding Good Food Institute "We don't want people to think differently about their food. We want to change the food."
At the very top of the rapidly expanding plant-based category sits Beyond Meat with a net worth of $2.73 billion (April 15th 2022). Although the rise of this meat-alt manufacturer has been 13 years in the making, their earliest marketing decisions were deeply significant. By demanding their products be placed amongst meat products on-shelves and avoiding vegan-centric, exclusive language like many of its predecessors, Beyond has changed the rules of the game.
The brand has socially normalised a plant-based diet for all – from common folk to elite athletes, reduced emissions compared to beef equivalents (by 90%) and spared the lives of hundreds of thousands of animals in the process.
Ultimately, activism here has taken the shape of entrepreneurialism and go-to-market strategy in order to shift hearts and minds in a sustainable way.
Grow Your Good Idea
Faster
New ideas are precious. Win support by learning how to create and tell a stronger story – sign up to join for free.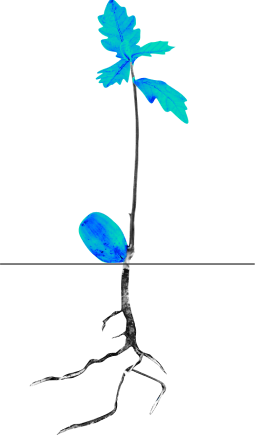 Learn from the strongest stories about change​
Sign up here to receive our monthly newsletter that explores great storytelling about brilliant ideas. Don't worry you can unsubscribe at any time.
We're working hard to walk the talk.
We're proud to be have been awarded The Blueprint and B Corp status in recognition of our work towards creating a better world.