Pride 2020: How Movements Can Reinvent During COVID-19 & #BLM
The weekend just passed marked Global Pride 2020 and the 50th anniversary of the first Pride march ever held in 1970. We can learn a lot from historic recollections of LGBTQ+ activism, the movements' narrative changes from then until recently, and how that has shaped what has come to be known as the rainbow-filled, corporate-sponsored, party pride we have now. However, this will be focussing on the reinvention that Pride has gone through in the context of 2020 amidst COVID-19 and what this mobilising transition can teach movements and campaigns.
The Christopher Street Liberation Day March was held simultaneously in New York and Los Angeles in 1970 and marked a year after the Stonewall Riots – it was the first-ever Pride march. Stories of the LGBTQ+ community before the Stonewall Riots have often been lost in history, but the riots couldn't have happened without the LGBTQ+ culture and politics that preceded it. Similarly, the modern LGBTQ+ movement couldn't have been realised in such a way without the Stonewall Riots.
The Stonewall Riots story is one of great feat with a heroic community at the centre of it – because the story is remembered by so many who were there, the story can sometimes shift in the memory of one activist to another, below is one version of the multi-layered story in our canvas framework.
So, now you know a bit about the history of Pride, but what can you learn from Pride 2020?
There have been major shifts occurring in society amidst COVID-19 and the resurgence of #BlackLivesMatter into mainstream culture. These have caused a deep distrust in institutions of power and a growing trust in our communities, which have fed into the remaking of Pride 2020. There are three story observations which are important to learn from:
Intersectionality and inclusivity invites more allies and heroes.
People need strong calls to adventure to make a deeper commitment to the cause.
Action needs to be centre stage to keep a movement moving.
Intersectionality and inclusivity invites more allies and heroes.
Pride 2020 being a virtual event that uses the tech we have all come to know (and love?) provides it with the opportunity of being more inclusive than ever. Although there may be technological barriers, it rips down cultural barriers that are ingrained into queer celebration. Inaccessible venues and parades and alcohol, tend to be at the centre of Pride celebrations and can leave parts of the community asking themselves why are my needs not represented?
Virtual Pride permits more of the community and allies to join in with the festivities and helps surpass geographical barriers for rural LGBTQ+ people, providing them with a space to be part of the wider movement story. This helps bring in new ideas, voices, and champions, which keeps the momentum of the movement going as more aligned stories are included, which in-turn helps catalyse narrative change.
This (online) inclusivity is a key accelerating narrative in the LGBTQ+ movement – and it's accelerating with great strength. The strength comes from the intersectional stories being told which highlight everyday inequalities and injustices that still occur. These illuminations oppose the comfortable party Pride we have come to know which celebrates progress, allowing Pride to reinvent itself. This reinvention has resulted in stronger action pushing for LGBTQ+ inclusivity with the marginalised intersectional voices being prioritised  – this made for a strong collision when Author J.K. Rowling made Trans exclusionary comments earlier this Pride month.
However, this inclusivity isn't just online. Pride and #BlackLivesmatter have been rallying together online and in the streets to make change in light of the killing of George Floyd. And have even united their stories creating the hashtag #BlackTransLivesMatter.
Thousands of people gathered in Brooklyn, New York for "Black Trans Lives Matter" rally on Sunday, June 14. The rally called for justice for two Black trans women, Dominique "Rem'mie" Fells, and Riah Milton, who were killed last week pic.twitter.com/X7L94Avs0g

— TIME (@TIME) June 15, 2020
But is this cooperation such a shock? With the renewed vow of intersectionality by the LGBTQ+ movement in 2017 when the brown and black stripes were added to the Pride flag, and the fact that #BlackLivesMatter have always affirmed their commitment to upholding all Black Lives and voices including those who are part of the LGBTQ+ community, this feels like a somewhat inevitable joining of allies.
The original Stonewall Riots protests happened due to police brutality, so #BlackLivesMatter has a compelling villain which hits the historic nerve of the Stonewall Riots story and the LGBTQ+ movement at large. Although they are currently fighting different villains – equality is at the centre. 
People need strong calls to adventure to make a deeper commitment to the cause.
The LGBTQ+ movement narratives have historically gone from Protest to Parade to Party, often forgetting that there is still a long way to go for true equality – so that all voices in the community are heard. The commitments that people have had to make to the stories have become somewhat easier, which has led to the creation of Pride™. 
Rather than protest, people just have to pop on some bright colours, have a dance and call it a day, and corporates just have to hire a parade float whilst being able to run away from the actual change they can be making within their industries. And whilst I recognise the need to celebrate our accomplishments, we should not un-couple it with the progress that still needs to be made.
But, Pride 2020 is different. The need to go virtual because of COVID-19 and amidst the rallies for #BlackLivesMatter, Pride has a renewed sense of community-based grassroots protest. It is not all party, instead, it's listening to those most marginalised in society and their needs for a good quality of life and basic human rights. These deeper commitments provide longer-term support to the movements' story, and don't rely on short-term nudges of action which party Pride currently provides. It's about asking corporates and society at large whether we are really doing enough? For movements to keep moving, their story needs to make it clear the part that allies play, otherwise they accidentally repress the voice of the community they are actually trying to help. Instead, we need to provide them with renewed ways to commit deeper to the cause, which also holds up those in the community.
Action needs to be centre stage to keep a movement moving.
Just like people need a renewed way of committing to the journey of change, they also need action to keep the story moving. Action is one of the only things that can truly make a movement and not just a moment which dies a quick death after online virality. Our canvas framework asks for three challenges in a story, these challenges escalate and keep the story moving, they provide the action and therefore build on the momentum already created in the story. The three challenges are what creates the true change, both for the hero at the centre of the story and the external world which in-turn changes too.
Global Pride 2020 uses the three challenges really well with their asks being 'Exist, Persist, Resist' – three actions that can help create the change they want to see. These escalate, allowing for commitment to the journey of change to grow and they work in an inclusive way because no matter where your starting point in the journey is (exist, persist or resist), you can be included. The challenges are short and snappy but can be elaborated on for further direction, they are also to the point but broad enough that it can relate to the contexts of different community heroes and allies.
Global Pride's challenges also align with the original Stonewall Riots challenges which were 'Escalate, Sustain and Organise' – this helps contemporise the story of Pride whilst also aligning to its history and the stories that people are already telling themselves. It builds, echoes and reaffirms history as we know it. By attaching it to an already established story it makes the potential of the story stronger and helps move it forward; it's kind of like the advice which is often given for gaining new habits – attach it to an old habit so that it sticks easier. So, to keep up a movement's momentum action should be at the centre of the story, even better, this action should align with the stories that people are already telling themselves.
Pride 2020 has been a defining moment in the LGBTQ+ Pride movement and we can all learn from it, but it is especially useful to storytellers who are part of movements and campaigns that are having to reinvent themselves amidst all that has happened in 2020. The stories being told right now and the shifts in narratives have shown that successful movements are all about momentum and knowing where to the place that momentum correctly within their stories. In my opinion, Pride 2020 has well and truly done this – how can you reinvent in a similar way?
Using the momentum provided from new champions, strong allies and shifts in society, Pride 2020 have managed to create one of the most authentic Prides in the modern LGBTQ+ movement. Of course, the community's opinions on Pride are just as diverse as we are, but I agree with Serena Daniari that "Pride isn't just a party. It's a symbol of what's possible: the ability to witness fully realized LGBTQ equality in my lifetime." Pride 2020 has lived up to this vision with inclusivity/intersectionality, a renewed hunger for protest, and aligning with its history to create a community-based grassroots Pride.
The Center for Cultural Power shares a guide to COVID-19 era narratives as well as tools for artists and activists activating narrative through culture. No going back also offers movement policies to uplift artist relief and align community values.
Grow Your Good Idea
Faster
New ideas are precious. Win support by learning how to create and tell a stronger story – sign up to join for free.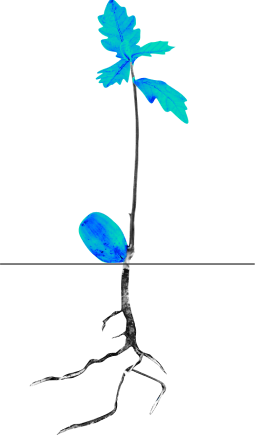 Learn from the strongest stories about change
Sign up here to receive our monthly newsletter that explores great storytelling about brilliant ideas. Don't worry you can unsubscribe at any time.
We're working hard to walk the talk.
We're proud to be have been awarded The Blueprint and B Corp status in recognition of our work towards creating a better world.