On the morning of October 16th, our inbox pinged with a message from the team at The Blueprint, a message that would add a new chapter to our story forever. 
Wow. Later on they also let us know that we were the only agency to receive full status in this round of applications. You can imagine the flurry of emotions that followed. We felt excited, honoured and proud. Once it sunk in, our minds quickly moved to the question "What now?"
At a time where racial injustice is alive around us, what do we do now to build on our commitment to equality, diversity and inclusion? 2020 has seen the ugliest parts of our society exposed. It's been a heavy year for us all, for minority groups, and black people in particular. At Stonger Stories, equality and diversity have been embedded in our values and behaviours, and is something we always strive to achieve. We've now been enlisted to help break down the industry's barriers with The Blueprint, and that means something special to us…
With great Blueprint status comes great responsibility. 
You see, The Blueprint supports organisations who don't want to hide from the current truth – systemic racism is real. It's saddening to know that research states PR has actually gone backwards in terms of diversity. The system is broken, and the onus is on us to fix things.
We not only feel inspired by The Blueprint and their small yet powerful team; we feel empowered to be a part of the solution to the different inequalities present around us, by signing up to their 23 commitments.
Our mission to democratise storytelling power with love would be in vain if we didn't look inwards, and work to make sure our organisation is built on fair and inclusive foundations. We recognise that this isn't just a status – it's a call to action. A call to fearlessly challenge and dismantle structural racial inequality anywhere and everywhere we see it. 
It's a call we are proud to accept.
Our CEO captures just how empowered we feel by this mark:
Defeated villains and a positive impact on the world – who doesn't want that? 
So, if you ask us how we feel today, we'll tell you we feel hopeful. The thing about hope is that it doesn't ignore reality. It acknowledges reality then chooses to look over the horizon towards the just and fair. Accepting what currently is, but refusing to take it into our future – a better world.
Grow Your Good Idea
Faster
New ideas are precious. Win support by learning how to create and tell a stronger story – sign up to join for free.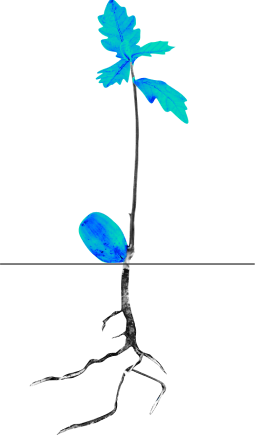 Learn from the strongest stories about change
Sign up here to receive our monthly newsletter that explores great storytelling about brilliant ideas. Don't worry you can unsubscribe at any time.
We're working hard to walk the talk.
We're proud to be have been awarded The Blueprint and B Corp status in recognition of our work towards creating a better world.