10 Years of Clean+Cool and We Still Need Better Stories
It's ten years since we launched Clean+Cool with Innovate UK in 2010 and during that time a lot has changed for cleantech. The impact of digitisation, the clarity of science-based targets, better returns from renewables and positive changes in public awareness, are just some of the reasons why the sector has moved from a technology niche to the mainstream.  
But we all know we need to go further, faster. And that's what we've been thinking about. There's three parts to our ambition for Clean+Cool for the next decade: 
Helping more people tell a stronger story about clean growth
Actively making more room for under-represented voices in cleantech and for new stories about a just transition 
Finding new ways to connect and support the world's most ambitious and promising cleantech startups and scaleups
Here are my thoughts about the first part – why it's important to help people tell a stronger story about clean growth; what we've learned from our cleantech friends in California and what we're going to do about it. 
Our founding goal remains the same – to help the most promising clean growth companies grow faster. We've done this by helping them find new insights, develop their pitch and profile and by making new connections to potential customers, partners and investors. Much of this has taken place as part of our entrepreneur missions to San Francisco, Silicon Valley and other parts of the Bay Area. 
To do these things successfully, an entrepreneur needs the ability to tell a clear and compelling story about their innovation. After a decade of Clean+Cool, it is one of the few things that is not just still true today but has only grown importance. 
Storytelling and cleantech may appear strange and even uncomfortable bedfellows. Engineers and scientists telling stories? And compared to the technical and financial challenges facing scale-ups, this very human one is often overlooked. But the Bay Area is a brilliant example of why it shouldn't be.  
For many, it's the investment and innovation capital of the world. And entrepreneurs, corporations, cities, Governments all study and try and replicate the Bay Area's magic formula. Is it the culture? Is it the diversity? What role does physical proximity play? Legislation? Regulation? 
To me, it is the story capital of the world. 
If it's true that a good idea is only an innovation if it's commercialised, then that good idea can only grow if other people understand it and are attracted to it. 
This is what I believe is the underlying magic of Silicon Valley. People tell stories and ideas grow. The legendary culture of openness is in large part because people speak to each other about their ideas, non-stop. 
Local people invest time and effort into communicating clearly. Pitching is a continual process of rehearsing and honing messages. Networking is a practiced art of listening and connecting. It's like this because people realise that being able to communicate your idea and the help you need, clearly and succinctly, means an idea can passed on to the right person. It's what makes the usual six degrees of separation feel like two in the Bay Area. 
Getting a good idea heard
There's a cliched myth that we hang on to in the UK, which is that our entrepreneurial American peers over-inflate, overshare and over promise. A different way of viewing this is people are obsessed with getting their good idea heard so they can win the support they need to bring their vision of the future to life. 
And for all the tech innovation in the Valley, people still buy people. So, the stories of struggle, where failure is worn as a badge of honour by US entrepreneurs, are representative of a real innovation journey and make a team more credible. In the same way that sharing a passion for a problem is what convinces investors that you're going to keep running through brick walls to solve it. 
At it's very simplest, having a customer as the hero of your story at least means that you're aiming to meet their needs, rather than sell your technology.  
What we need now are the stories
I feel that collectively, we're at the stage where we have the solutions we need to transition to a Net Zero economy. What we need now are the stories. Stories that help Governments, corporations, cities and consumers buy those solutions. Stories that bring to life those solutions in terms of new jobs, healthier communities, transformed systems, renewed relationship with the natural world. 
I hope you'll join us.  
Grow Your Good Idea
Faster
New ideas are precious. Win support by learning how to create and tell a stronger story – sign up to join for free.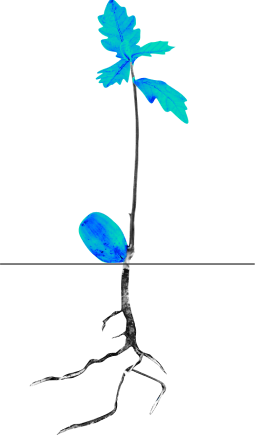 Learn from the strongest stories about change
Sign up here to receive our monthly newsletter that explores great storytelling about brilliant ideas. Don't worry you can unsubscribe at any time.
We're working hard to walk the talk.
We're proud to be have been awarded The Blueprint and B Corp status in recognition of our work towards creating a better world.