From Awareness to Celebration: Neurodiversity Celebration Week
Siena Castellon is the author of The Spectrum Girl's Survival Guide and Founder of Neurodiversity Celebration Week – a week to celebrate people with learning differences, to educate and foster supportive environments for the neurodivergent. This year, its message is spreading far and wide, with over 1000 schools, 870,000 students and countless organisations taking part.
Using our lean canvas, we've mapped out the story to reveal the different elements that make Siena's and Neurodiversity Celebration Week's story so impactful. Pay particular attention to the Mentor, Challenges and Better World blocks.
So what are the story elements that Neurodiversity Celebration Week satisfies, which have caused it to strike a chord with so many?
Siena Castellon openly talks about her experiences growing up in a world not always supportive and inclusive of her autism and learning differences. Her approach is a great example of a mentor turned hero – she is the ideal mentor and she can put herself in the shoes of those she wants to support, and they can see themselves in her. This gives her mission credibility as well as building empathy between her and her audience.
"According to the Department of Education, 15% of students in the United Kingdom have a learning difference. I am one of these students… We are the dreamers. The pioneers. The change-makers. The future business leaders. We are the trailblazers. The adventurers. The discoverers. We are the Einsteins and Bransons of tomorrow. Yet, our ability to fulfil our potential is being threatened by the stigma associated with having a special educational need." – Siena Castellon
2. A sequence of clear challenges
The challenges that Siena and Neurodiversity Celebration Week aim to overcome are clear and logically follow on from each other. This means that for anyone going on the journey of change the obstacles don't feel overwhelming, in fact, Siena makes sure to demonstrate not only how to overcome the challenge but also the reward. It's as obvious as ABC:
A) Be aware of neurodiversity. E.g. inviting neurodivergent parents or a neurodivergent member of the local community to speak. This will debunk myths and stigmas. 
B) Accept neurodiversity. E.g. encourage neurodivergent students to share their talents, this will help with inclusivity and lower feelings of social isolation.
C) Celebrate neurodiversity. E.g putting up posters of successful neurodivergent individuals – this will ensure communities truly value difference, allowing individuals to feel safe enough to flourish, and the wider society as a result.
It's easy to understand. The easier something is to understand, the easier it is to get behind and take action.
3. A Better World we all want
A strong Better World makes people root for the everyday heroes, and makes them want to join in and support the cause too; the hero has changed and most importantly the world has changed too. 
Being social creatures, we all want to be seen, be understood, and be included – that's what's so powerful about Siena's aim with Neurodiversity Celebration Week. We all want to be accepted and celebrated for who we are, and for our strengths to be appreciated. It's a request and goal no one can dispute, but everyone can get behind: A tolerant, inclusive, society. The ending to a story we all want – one that can and should happen.
So, what type of mentor are you? What are your challenges and are they clear? And can your hero really buy into the Better World you want to create?
Regardless of your answers, we hope Siena and Neurodiversity Celebration Week has inspired you to think differently about your own story.
Grow Your Good Idea
Faster
New ideas are precious. Win support by learning how to create and tell a stronger story – sign up to join for free.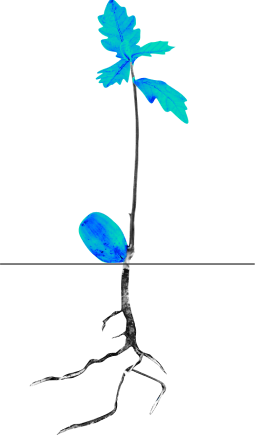 Learn from the strongest stories about change​
Sign up here to receive our monthly newsletter that explores great storytelling about brilliant ideas. Don't worry you can unsubscribe at any time.
We're working hard to walk the talk.
We're proud to be have been awarded The Blueprint and B Corp status in recognition of our work towards creating a better world.