So, what can you expect with a full membership?
Stronger Story School contains all of our core knowledge and practical tools. We'll be continually updating it as we push the boundaries of story in pursuit of our mission to democratise storytelling power for people, like you, with good ideas.
We've condensed all of our lessons and resources, along with our own learnings from delivering story workshops and accelerators, into six short modules.
The first three modules guide you through our tools, models and approaches to creating a stronger story.
The first module introduces you to the basics of storymaking and the Lean Story Canvas. You'll also create the first draft of a new stronger story for your good idea.
Discover the patterns behind the world's most successful stories
Get familiar with the 9 building blocks you need for a stronger story
Create your stronger story using the Lean Story Canvas
How do you make sure that your story makes change happen?
The most effective stories are journeys of change that engage your audience, connect to their values and bring them along on the journey. This module introduces some key concepts, tools and techniques to help your audience open up to change in support of your good idea.
Understand the stories we tell ourselves and what we mean by a 'better story'
Learn why values are so important and how to identify them through story listening
Improve your story building blocks and make your stronger story a better story of change
We can learn much from the work of others.

In this module we share a selection of tools, models, techniques and ideas which we use to help people strengthen their stories.

We've summarised them in each lesson, and encourage you to visit the originators' own websites and hear it from the source.
The final three modules continue the learning, but with a focus on how to tell your story and grow your audience.
This module takes a practical look at our story-as-strategy model, and gives you a range of tools for applying the building blocks of your stronger story to communications assets that will get your good idea heard.
Learn how story is the single tonic for many strategic ailments
Tell your story in an 'elevator pitch' so it can be easily remembered and retold by others
Apply your story to assets that will help you build profile, win support and attract talent
You've created a stronger story to win your good idea the support it deserves, and started telling it – but how do you ramp up the initial engagement, bringing a wider audience to your good idea?
Enter
narratives
.
Get to grips with our Narrative Adoption Curve and help your story 'jump the chasm'
Discover 6 simple ideas to help you find your way with narrative
With your stronger story adopted by a growing audience, how can you keep it moving, increase it's impact and make change happen?

This final module reveals what network science, complex contagions and new power dynamics can do for your good idea, and explains how you can factor them in to your storytelling.
The lessons in each module:
Explain how to use unique practical tools and frameworks created by Stronger Stories to help improve our client's stories, storytelling skill and confidence

Show you how to use concepts and models created by others, such as Schwartz's Basic Human Values, in your storytelling

Include downloadable templates and guides.


Are tracked and can be tackled in any order

Include a variety of media and interactive activities

Invite you to join the discussion with fellow storytellers
Along with our complete (and growing) database of stories and insights, you also gain access to our story experts for help as you create and tell the story your good idea deserves.
"The team understand what it takes to bring innovative and sustainable ideas to market and, more importantly, how to explain them to audiences of potential customers, investors and partners."
"If you want to learn how to tell your story to get your audiences to listen, there is no better or more relevant learning resource out there. I can't recommend it enough."
"An invaluable education in how to use ancient skills to structure a story for now."
Grow Your Good Idea
Faster
New ideas are precious. Win support by learning how to create and tell a stronger story – sign up today.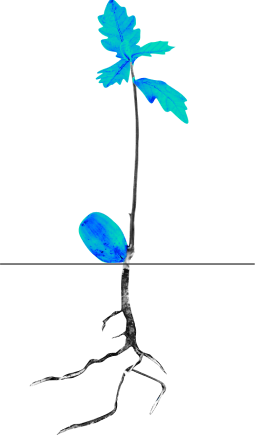 We're working hard to walk the walk.
We're proud to be have been awarded The Blueprint and B Corp status in recognition of our work towards creating a better world.